A Lighted Window at Dusk
A Lighted Window at Dusk, which title was borrowed from the Dictionary of Obscure Sorrows' definition of the word sonder, is a poetic erotic story about Lola who's isolated and touch starved due to the Coronavirus pandemic. On a winter evening, while gazing out at the tenfolds of apartments visible from her courtyard, she's struck by a feeling of sonder and her imagination starts to wander.
The story was originally commissioned by Lioness for their subscription based (S)explore newsletter in January 2021. This special-edition is put out by Essensuals Press—Ena Dahl's own publishing platform for sensual and erotic literature and art—and features a photographic collaboration between herself and artist/muse, A-Muse. In the shoot, done in May 2020 just after the end of the first lockdown, the two interact, dance and 'touch', separated by a glass window, as an expression of their longing for physical contact and intimacy.
—
The full, 42 page PDF book with 20 previously unpublished photos, is available through my Patreon. If you're interested in buying the book separately without a subscription, you can send me an email to enadahlwrites[at]gmail[dot]com, or Paypal me 6.00€ directly to the same email address and include the title of the book, A Lighted Window at Dusk, in the notes as well as your email and you will receive it within maximum 24 hours.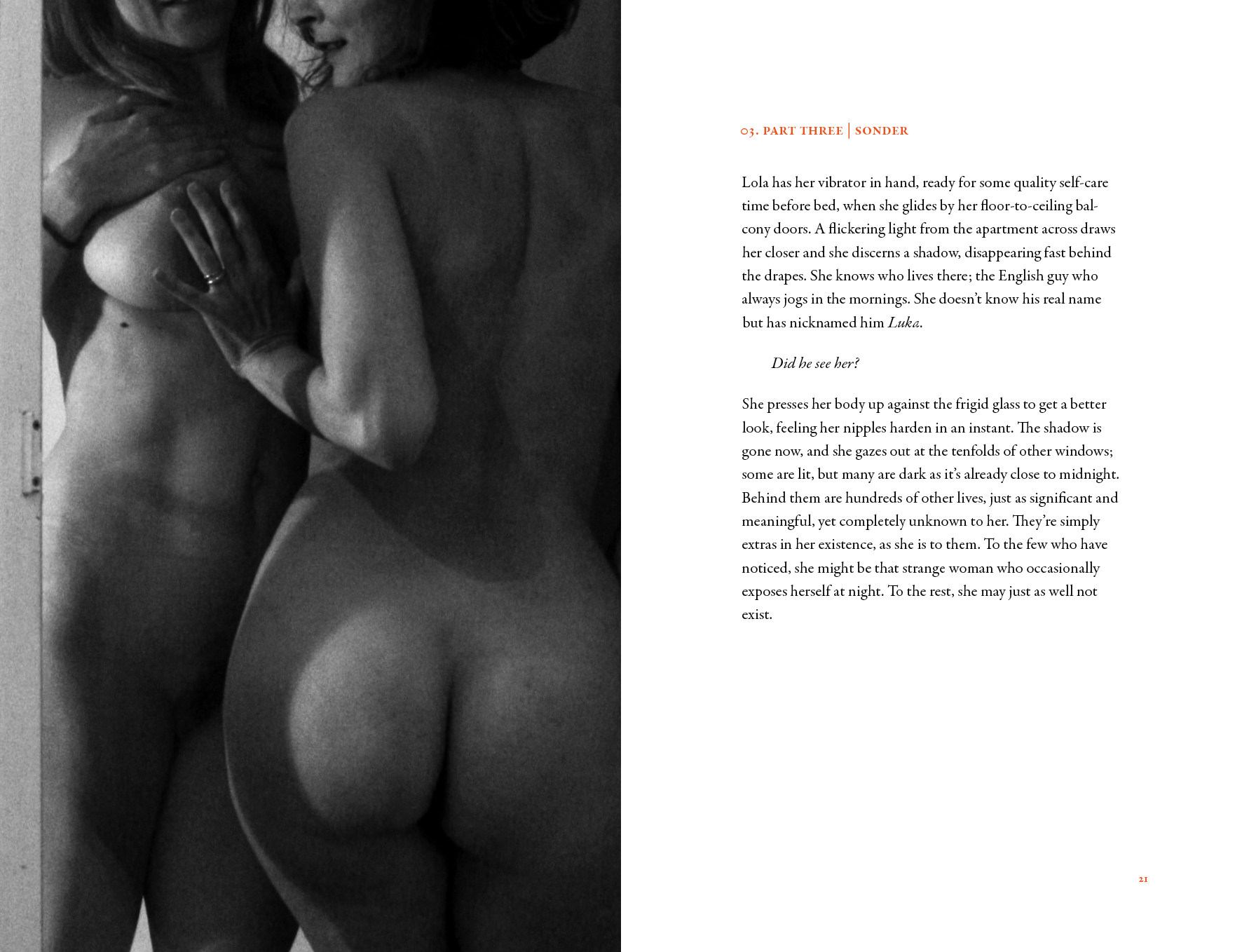 Sonder | n. The realization that each random passerby is living a life as vivid and complex as your own — an epic story that continues invisibly around you like an anthill sprawling deep underground, with elaborate passageways to thousands of other lives that you'll never know existed, in which you might appear only once, as an extra sipping coffee in the background, as a blur of traffic passing on the highway, as a lighted window at dusk.
—Dictionary of Obscure Sorrows